With almost £45 million a week being spent on organic products in the UK, it's clear that business is booming for the clean and green industry. So, is it time to jump on the bandwagon and give your beauty routine an organic overhaul? We think so…
Our new beauty blend was formulated from an ethical stand point, as natural living and environmental issues are at our forefront. We wanted to create an environmentally friendly and chemical free product which enables our customers to fulfil their needs and nourish their skin from the inside, out.
Our planet is in disarray and we all need to take responsibility and do what we can to make this world a happy, healthy place to live for our children. With frequent protests creating global awareness, it just goes to show that one voice can make a difference. You only have to look at @GretaThunberg, this passionate teenager has made a huge impact in the world; what are you doing to make your impact?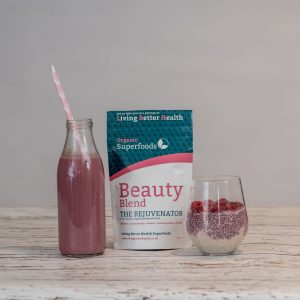 Using natural plant based products which are organic and vegan, help us keep the authenticity of the company. Our Beauty Blend is designed to restore, rejuvenate and maintain a healthy youthful glow. Bursting with nature's finest foods and vitamins,which stimulate collagen repair, just add to water and you're good to go.
In October's issue of the Natural Health Magazine we are listed as one of the top 10 ways "To Better Ageing', stating 'Studies have shown significant improvment in wrinkles, skin moisture and ealsticity with Ashwagandha and Rose Hip powder, both of which are in our Beauty Blend.
As recommend by The Natural Health Magazine.