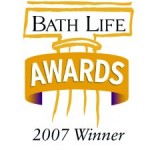 The Bath Life Awards celebrates the very best of Bath living and business. This year's revamped and improved event was held on September 20th at the Assembly Rooms, Bath. The theme was decadence, from the footmen greeting guests at the door, to the goddesses bearing grapes and Adonis' bearing wine. It was an evening of sumptuous food, great entertainment and, of course, recognition of Bath's most respected businesses.
The awards were voted for and chosen in a three stage process by the people who matter most – those that live and work in Bath. The final stages were decided by an independent panel of judges.
Lisa won the category for Health Business of the Year 2007.