Are you trying to run a business all by yourself, with little or no support?
Do you feel overwhelmed by your 'to do' list?
Is what your doing working ??
Are you seeing returns for your hard work?
It can be very difficult keeping yourself motivated or on track with your goals, but with a little more structure and consistency you are much more likely to get the results you desire and the income you deserve!
Within this days workshop we break down the four main components of where you need to start.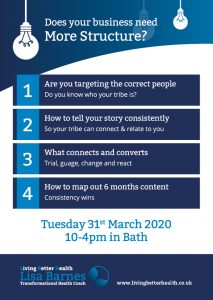 The workshop will help you to get really clear on what it is you are doing and how you need to do this.
Come and join us!
£149
The course will take place as 'The Hub', Mulberry Way, Mulberry Park,
Combe Down, Bath, BA2 5BU.