10 Day Virtual Body Reboot Programme

Our Virtual Retreat is running from 12th -21st June
(closing date will be sunday 7th June midnight).
Why don't we ever start a new programme, because it never seems like the right time, well this is the right time and you can do it all from the comfort of your own home, but with personal motivation and inspiration from a collective group.
This is our first ever virtual programme which has been born from the amazing results we have seen from the 10 day Body Reboot Bundle but with so much more. Look at what you get for just over £12 a day !!!
The online programme will offer :
Daily Workouts
Rise & Shine Yoga
Meditation
Motivational Coaching to keep you on track
Daily talks on all things 'Hormonal'
Private Facebook group to share your experience with other people wanted to reach the same goals as you
10 day Food Planner & Recipes to be downloaded
Shopping list for your convienience
10 day Superfood Juice & smoothie Planner & Recipes (additional cost at a discounted rate -see option 2)
Results from our 10 Day Superfood Reboot Programme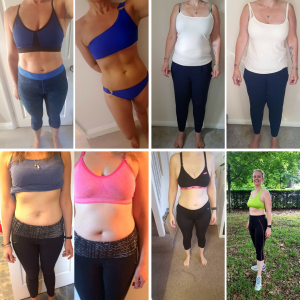 There are two options to the programme. Option 1, is everything listed above but will not included the 6 bags of Superfood products and the step by step juice programme. It will offer juice recipes and a shopping list for the recipes and juices recipe food planner. Option 2, is if you want to go a little more in-depth and really reboot your body shape, as this has the addition of 6 bags of LIving Better Health's on Superfood range and a step-by-step juice & smoothie programme for the total of the 10 days.
Option 1
£129 Purchase 10 Day Body Virtual Reboot Retreat only
Option 2
£182.17 Purchase 10 Day Body Virtual Reboot Retreat + Superfood Bundle & Step by Step Juice Plan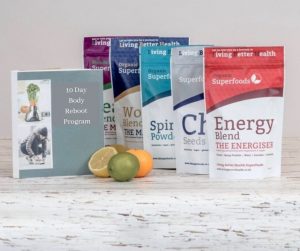 (option 1 + 30% discount on the Superfood Bundle, which includes 6 Superfood poouches for you to follow the juice & smoothie planner & receipes). The superfood bundle is normally £75.96 (including p&p) so with the discount it is now only £53.17 (including p&p)